Each student's program is individualized and driven by the goals developed in their Individualized Education Plan (IEP). The day is divided into multiple academic and therapeutic sessions based on each student's IEP.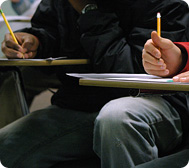 Academic sessions are provided in three formats: student to teacher, student to aide, and group settings. Movement or sensory breaks are incorporated into each academic session to help students maintain focus and achieve academic success.
Life and self-help skills are another primary component of GLA's educational model. Students work with teachers, aides, and therapists in order to develop the daily living and vocational skills that are crucial to adulthood and leading productive and active lives.
Students receive related services such as speech therapy, occupational therapy based on their IEP needs. Therapy services may be provided in small groups or one on one within the therapy room and/or as one on one support during a classroom activity or experience.


Behavioral Therapy
Applied behavioral analysis in an academic setting is used to promote positive behavior intervention strategies.
Occupational Therapy
Helping students develop the necessary gross and fine motor skills to participate as independently as possible in activities in all environments.

Individual/Milieu Therapy
Students will receive professional services from counselors trained in providing mental health and dual diagnosis treatment to help them identify their strengths in order to help them move forward with their life goals.

Speech/Language Therapy
Helping students develop functional and appropriate receptive, expressive and pragmatic language skills.


Community environments and target skills are selected for students by evaluation of their individual needs and recommendations made by students, parents/guardians, and teachers.
Adaptive Physical Education Activities
Art
Computers
Music
Hygiene
Daily Activities/Schedule